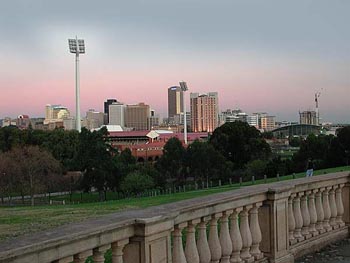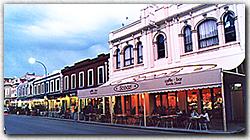 The 'happening' Rundle Street
Since I arrived here since March, 2002, my lifestyle has changed in one way or another. Life in this country is rather moves in a slow pace, at least that's the case if you are staying in Adelaide like me. Most of the shops close at around 5:00pm on weekdays, except on Friday, when the closing time is 7:00pm instead due to the so-called 'Late Night Shopping' Day! Restaurants closes at around 10:00pm, so if you are craving for supper, you will usually end up in fast food restaurants. For entertainment, I usually go for movies at the few cinema chains here such as
Greater Union
,
Wallis
and
Hoyts
. The ticket price is quite pricey though at AUD7.00 (concession price), considering the ticket price back home in Kuala Lumpur is just RM10 (AUD5.00). Fortunately for me, there are also few cybercafes that offers LAN gaming at around AUD4.00 per hour. So at least I still got to play my beloved
Counter-Strike
game. If you are into clubbing, there are quite a number of happening places to go to. Or you can even just sleaze around at one of many cafes along the famous Rundle Street.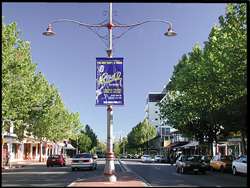 O'Connell Street; I live just off this road
The living cost is quite high over here, especially if you come from a country where the currency exhange rate is lower then the AUD. A room within 5km from the city centre could cost around AUD80.00-AUD100.00. Most of the rooms are unfurnished, so you would have to buy your own. Of course you can choose to stay in further sub-urbs, where the rent would be much cheaper. But you would have to fork out more for the transportation cost. Luckily, the city bus system is very reliable, and only cost AUD0.55 for off-peak hours, and AUD0.99 for peak hours (both are concession prices). I'm currently staying at North Adelaide, one of the nearest sub-urb to the city centre. I will tell you more about North Adelaide later.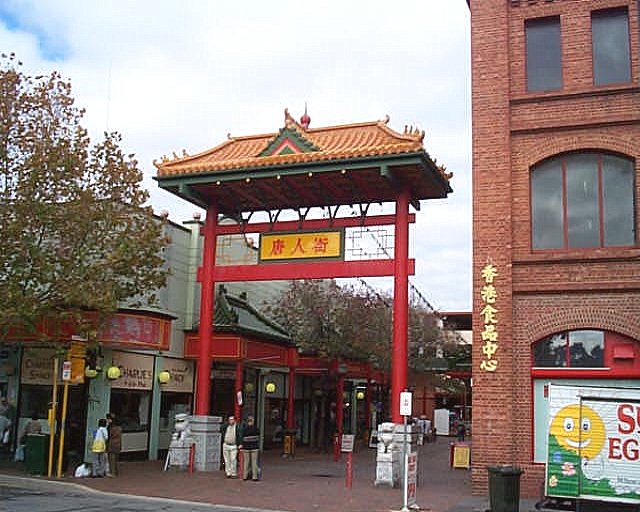 Adelaide's Chinatown, where you can find most chinese restaurants
The food here are quite impressive too. Most of the overseas students here cook at home. But there are wide choices of food if you choose to eat out. Most of the chinese cuisines here are by Chineses and Hongkies, so you can be sure of high quality and taste. The price is considerably cheap too (compared to other cuisines in Australia). A plate of rice or noodle usually cost around AUD7.00. But if you don't mind eating "unhealthy" food, then fast food is the answer to your financial woe! Fast food restaurants here such as McDonald's and KFC offers low promotional price quite often. For example, you can buy 2 pieces of chicken at only AUD2.00 every Tuesday at KFC. And with a VIP card, you can get a free large Coke with every purchase of any burger at McDonald's. The pizzas here are really cheap too. A large pizzas only cost AUD5.50 (concession price) at Dominos.